There are a lot of choices when it comes to managed service providers in Kansas City — which makes it tough to sift through the options and find the right one for your company's needs.
When we talk with companies interested in network services or IT strategy and consulting, we find that there's a lot of confusion on what to look for in a managed IT service provider. Price is on everyone's mind, but the value of what they get for that spend is always the deciding factor.
Our clients choose (and stay with) us because with Cenetric, they can finally get IT troubles off their plate — and breathe a sigh of relief.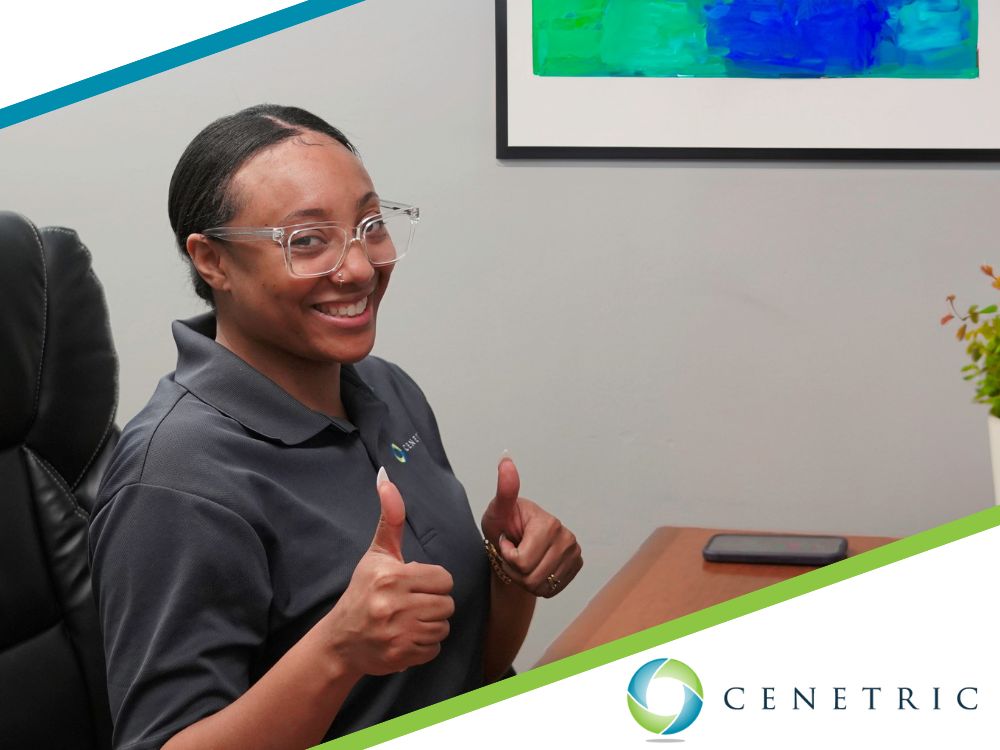 Our team is responsive and reliable
With a 99.98% client satisfaction rate, Cenetric never lets our clients down. Our help desk is available from 7 a.m. to 7 p.m., 7 days a week, and we provide emergency service 24/7. Our clients get a live person on the phone immediately more than 99% of the time — and a response within 20 minutes if they don't.
Our team is truly there when you need us. One client, a manufacturer located more than three hours from our Kansas City offices, experienced a critical outage in the middle of the night. Even though our contract was for remote support, the issue was so dire that we dispatched a support tech right away so they wouldn't lose any more vital production time. The result? A happy client that was back up and running quickly.
Cenetric is so committed to service that we don't follow one very common industry practice: subcontracting out-of-town work. While Kansas City is our backyard, we work with businesses nationwide. No matter where you are, you can be sure you're working with a quality, trained Cenetric team member who's up to speed on your project — not someone outsourced.
We deliver expert, client-centered support
With more than 200 certifications in 70+ areas, there's no problem our team can't solve. Every agent has a minimum A+ certification, and our team has a 94% first-time fix rate. It's important to us to get our clients back to business fast.
IT support agents can sometimes have a reputation for less-than-friendly service. Not here. We invest in customer experience training for every support rep — we believe that how your support is delivered is as important as the support itself.
The well-rounded experience of our team is partly because we're vendor-neutral. Many managed service providers contract with one or two technology vendors and can only serve clients that use those systems. Those road blocks aren't a problem at Cenetric. Our team is ready to work with any system you've got — modern or dated, popular or obscure.
That flexibility pays off for our clients. One of the area's biggest enterprises had searched the region for a network service provider who could manage what was, at the time, a little-known solution — but one that was an absolute must for their business.
The biggest managed service providers in town told them they couldn't because they didn't have a relationship with that vendor. But Cenetric isn't locked in with any vendor, landing us the client — who is still with us today.
Our clients stick with us
Speaking of loyal clients, we're proud of our 99% retention rate — the result of the strong relationships we build with the companies we work with.
One of our favorite clients once told us she'd "rather chew glass" than work with anyone but us. And that's the kind of trust we strive to build with every company we serve.
We're a woman-owned business
While it's important to prioritize diversity among your vendors, the advantages of working with a woman-owned managed services provider go far beyond that.
Our founder, Brittany Fugate, saw a gap in service offerings in the Kansas City area and knew she could bring a different approach to the market. She leads our team in tackling clients' challenges with a let's-figure-this-out attitude focused on getting to the bottom of the real pain — and relieving it. 
No challenge is too big for our enterprising team
Our company's go-get-'em philosophy means that we don't back down from tough situations. While we focus on professional services organizations like law firms, accounting firms and engineering firms, we work with a variety of companies looking for a fresh, strategic approach to IT challenges.
Whether that's a middle-of-the-night dispatch to a client hours away or standing up a network in the middle of Death Valley, our team is up to the task — reliably and expertly, right when you need it.
Looking for responsive, expert IT services for growing companies in Kansas City — or beyond? Tell us about your challenges, and let's figure them out together.