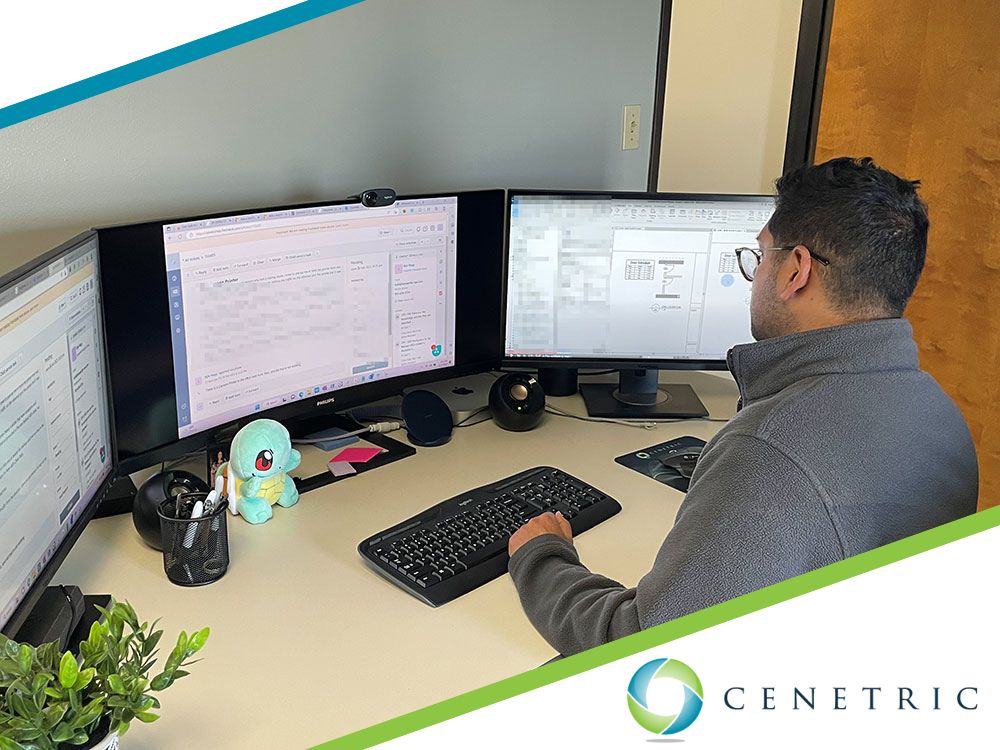 From remote workforces to identifying new ways to collaborate with project partners, engineering firms have seen an explosion in the use of technology in the last few years. For many, this rapid growth has led to challenges in managing and protecting new data and systems that were likely unfamiliar just 10 years ago.
The ever-increasing standardization of building information modeling (BIM), for example, has improved engineering firms' productivity and efficiency. In a survey by Autodesk, respondents that had committed to BIM reported more client satisfaction (61%), an improved project win rate (49%), and reduced overall design time (50%). But managing and working with all the data that comes along with BIM technology has also added complexity and frustration for some firms.
Make no mistake about it: The pace of technology adoption demands that you and your team find ways to handle the challenges of new technologies  — before they harm your business.
Data management
The sheer volume of data your engineering firm uses in daily work can cause problems without the right storage strategy in place. A U.S. CAD study showed that 57% of architecture, engineering and construction (AEC) industry respondents manage over 15 terabytes of data while 43% of respondents manage less than 15% of terabytes. And that number is getting bigger — fast. The average AEC firm stored 1.17 million individual files as of 2021, up from just 410,000 in 2017.
Across every industry, the pros and cons of on-premise vs cloud storage are hotly debated, but in the engineering industry, the cloud has the edge. More flexible and cost-effective and usually with tighter security, cloud data storage gives engineering firms the agility they need to perform under tight timelines.
Cloud migration can help your firm capture these benefits, but it can be a complicated endeavor. Working with an experienced team of cloud experts can reduce the strain on your internal team if you have one — and take the whole thing off your plate if you don't.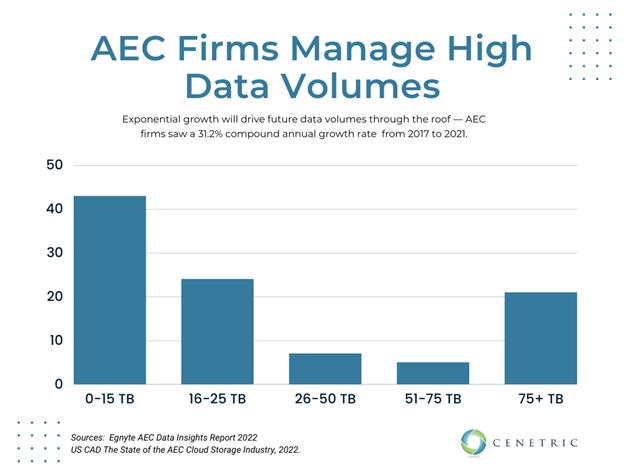 Siloed systems
For engineering firms, sharing data inside and outside your team is a must to accomplish your project goals. But many firms struggle to unite their systems to make work more effective.
According to a 2022 study by Newforma, access to data causes big issues for the AEC industry. Among their challenges:
69% can't find the information needed to make informed decisions.
66% are challenged with collaboration and sharing externally.
57% struggle with manual administrative tasks needed to enter data across systems.
Connecting your systems is a must for productivity in the engineering industry — it creates a single source of truth for everyone involved in the project to rely on. The increasing use of common data environments (CDE) in the AEC industry helps ease the challenges of silos when your firm is collaborating with outside groups, but beware — they can create their own security issues.
Cybersecurity
Cyberattacks are no longer limited to the largest companies  — smaller firms have become just as attractive to online criminals because of the interconnectedness of today's business world. Small and medium-sized companies can be the way into larger ones or into new assets. Beyond the typical targets, now even "critical infrastructure, pipelines and potentially heavy equipment" are ripe for potential attack, according to Construction Equipment Guide.
Moody's Investors Service, which monitors industry risk as part of its credit rating methods, identified electric, gas and water utilities as "very high" risk industries for cyberattacks, and rated telecommunications as a high risk. If your firm works in these areas, you could be at greater risk — particularly through CDEs.
Moody's ranked industries at higher risk based on both how disruptive an attack would be to that industry and how digitized it is, which creates more entry points for attack. As your firm adds new technologies, you'll create a larger attack surface and more potential for risk.
Small and medium-sized engineering firms need to protect themselves against all kinds of cybercrime, including:
Phishing, in which attackers communicate with members of your team to gain access to sensitive data like passwords or financial information.
Distributed denial of service (DDoS) and other botnet attacks, in which attackers flood your systems and devices with bots to gain access, take over, and disrupt business.
Ransomware, in which attackers take control of your systems and demand payment to restore your access.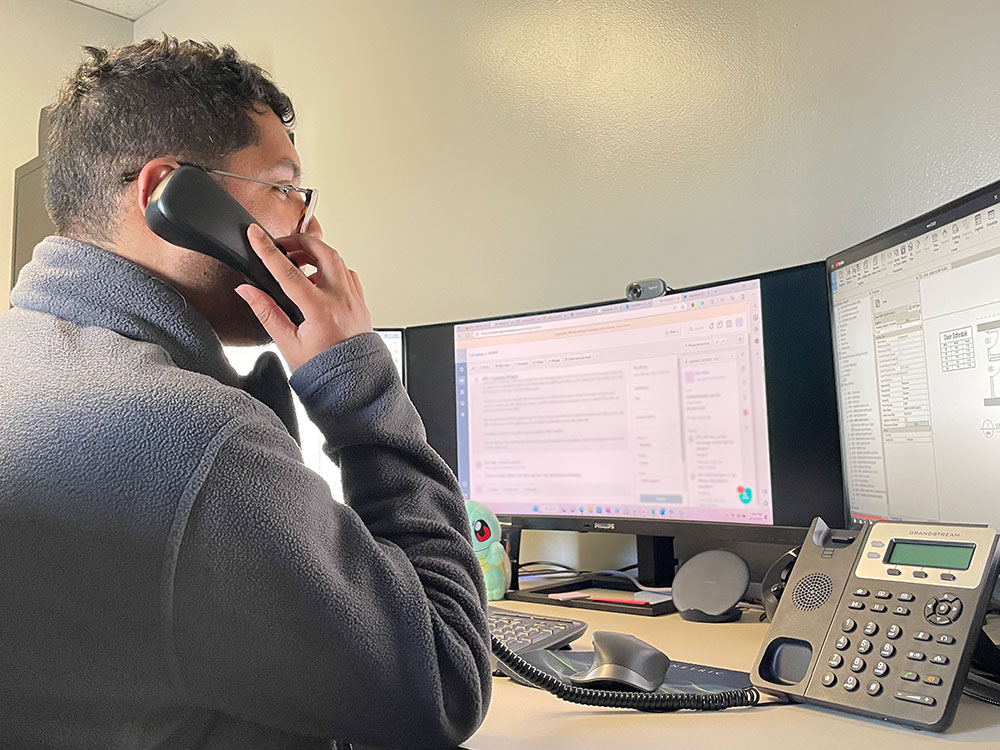 Ransomware attacks
Among the most damaging threats an engineering firm can deal with is a ransomware attack. Companies that rely on 100% uptime like retail and companies that handle sensitive financial, legal, or healthcare data are often prime targets for ransomware. However, those companies are likely to have more sophisticated protections in place.
Ransomware attackers now also go after businesses they think are likely to have lesser security standards in place. Smaller companies, like engineering firms, that previously weren't top targets are becoming victims more often.
How engineering firms can protect against cyberattacks
Preparation is your best protection against any type of cyberattack, including:
Proper backup methods and frequency
Penetration testing
Phishing tests and training
Malware removal and protection
Employee training
Compliance audits
Network security monitoring
But even with the best prevention, cybercriminals sometimes find a way into your business. If they do, every employee on your team should know the procedure to contact your IT team or your outside provider for immediate help at any time of day or night. Cybercrime can be incredibly disruptive and damaging to your engineering firm — so there's not a minute to waste.
Find the right technology partner so your engineering firm can do your best work
If your firm has a small IT team — or none at all — it's important to find the right managed or co-managed services provider to support your business. Let your pros focus on what they do best, and find them a responsive, experienced IT team to make sure they have the right technology — and protection — to do it.
Working with engineering firms in Kansas City and beyond, Cenetric has the experience and availability you need to keep your business running smoothly 24/7. We can take a look at your potential vulnerabilities in a free consultation.