We all know that Kansas City is a leader in Engineering and Biomedical Sciences and the support of STEM program development. On April 25th, over 400 students from 32 different schools gathered at the Overland Park Convention Center as part of Project Lead The Way to display their senior capstone projects. 
This program, sponsored by Commerce Bank and coordinated by KC STEM Alliance partner, Starland Education, saw more than 200 professionals from all areas of STEM in attendance as judges to evaluate for winners for awards and scholarships totalling $12,000. 
Cenetric Engineers David Warner and James Weller were two of the judges at the event, and were amazed at the innovation the participants displayed.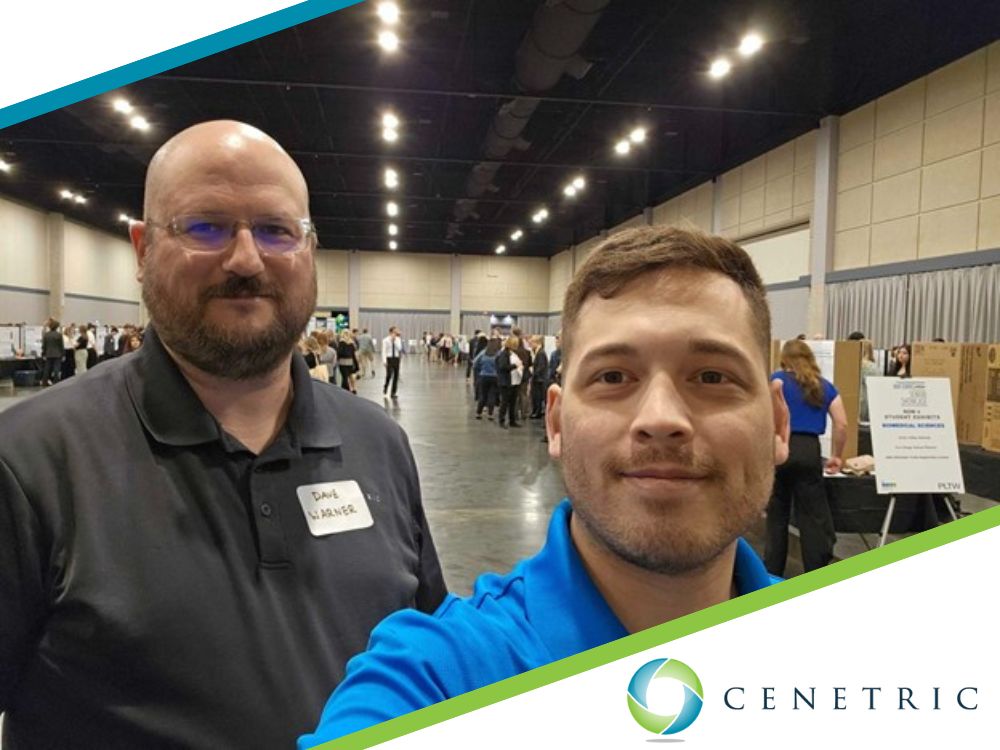 Here is James Weller's account of his experience at the event, and a little about his favorite invention:
Being a judge for the KC STEM Innovator Awards was an incredibly unique and fun experience that left me in awe of the brilliant minds and innovative ideas displayed by the future creators, scientists, and entrepreneurs of Kansas City. Among the numerous impressive projects, one stood out: a mechanical grabber with a waterproof camera with the purpose of retrieving disc golf discs out of lakes and hard to reach places.
From the moment I found the booth among the hundreds of others, I could sense the dedication and passion that had gone into its creation. The mechanical grabber itself was a feat of engineering, with its intricate design and custom 3d printed pieces. It's drill-powered grabber with precision and speed, allowing it to grasp objects with remarkable strength.
However, what truly set this project apart was the addition of a camera, which transformed the grabber into an ingenious tool for exploration. It enabled the operator to visualize and assess objects and discs underwater. The camera feed was displayed on an attached monitor, providing a real-time view of the grabber's surroundings. This feature not only enhanced the efficiency of the grabber but also added a layer of safety and convenience for various applications.
It was apparent that countless hours of research, experimentation, and refinement had been invested in bringing this concept to life. Their presentation was engaging and well-prepared, allowing me to grasp the full potential and versatility of the device. I was particularly impressed by the student's ability to articulate the practical applications of their project outside of its main purpose, ranging from assisting in hazardous environments to aiding individuals with limited mobility.
Witnessing such remarkable talent and innovative thinking among young minds filled me with immense optimism for the future. The grabber project was not only a testament to the student's skills and creativity, but also a testament to the power of STEM education in fostering a generation of problem solvers and visionaries.
As a judge, it was an honor to have the opportunity to evaluate this project, as well as all of the other projects I saw, and recognize the exceptional work of the students behind them. Their projects serve as a reminder that innovation knows no bounds, and with the right support and encouragement, young minds can bring about transformative change.
You can learn more about the participants and winners of the event here.
We were honored to be in attendance and celebrate the support of STEM education in Kansas City area schools. The future looks brighter than ever!