Co-Managed vs. Fully Managed IT Services
Today, every successful business has information technology (IT) as its backbone. A common dilemma for many companies is whether to rely on an internal IT staff, work with a managed service provider (MSP) or integrate a hybrid, co-managed IT support solution. Below, you'll find in-depth descriptions of each type of managed IT service so you can make an informed decision about what to choose.
What Are Co-Managed IT Services?
Also known as shared services, co-managed IT services are when your IT department and a managed service provider link their services. If you have any level of IT support but want to leverage additional expertise, co-managed IT services are an effective option for your organization.
Under a co-managed IT technique, your internal team will work in tandem with an IT MSP to accomplish specific goals. It's a combination of your IT personnel and the knowledge of an MSP, where you can augment solutions to create a more streamlined process. As a result, you'll see fewer redundancies, an increase in system updates, boosted network security and overall performance.
When it comes to co-managed IT services, your company's size equates to how much support you'll need. A desktop support engineer could be advantageous to a medium-sized company. For larger organizations, several engineers and a technical manager would be a perfect utilization of co-managed services. However, each business is different, so depending on your requirements, the scenario may look different.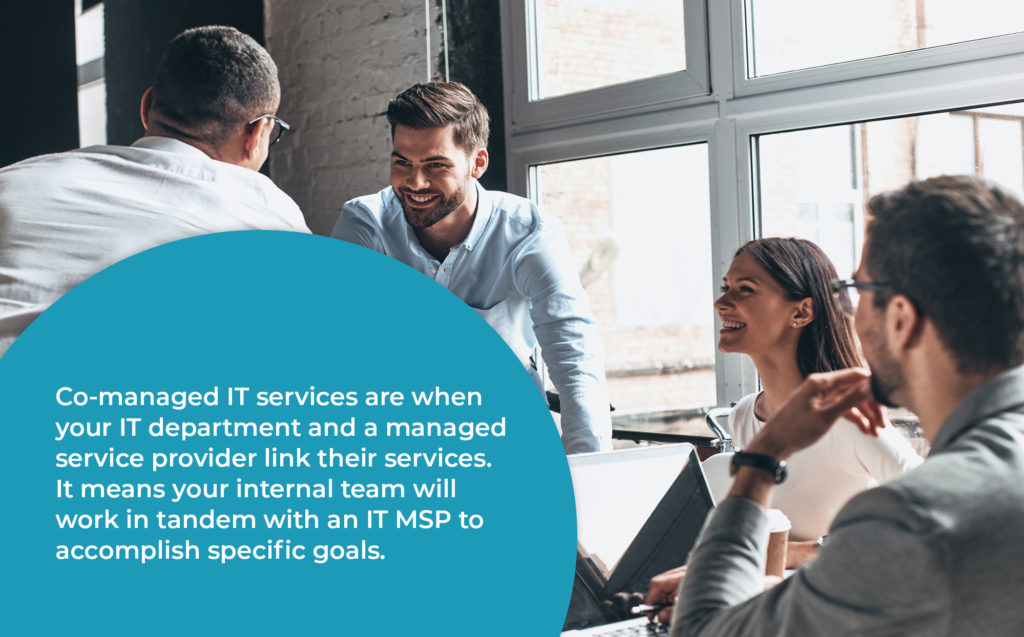 Benefits of Co-Managed IT Services
Several benefits of co-managed information technology service include:
Better insight into network performance and key performance indicators (KPIs)
More collaborations between different skill sets
A flexible partnership
Ability to update operations and add tasks as your organization grows
A solution that helps your business grow
When you integrate your internal IT team with an MSP, you still have control over your infrastructure. MSPs act as an extra source for your in-house IT department when they need to delegate certain tasks. Many times, companies rely on MSPs for level one and two support so the internal IT team can concentrate on other strategic projects. This way, your experts can focus on detailed business strategies while the MSP focuses on creating a clear path toward IT success.
For some businesses, co-managed IT support is the best of both worlds. On the one hand, you have an internal IT specialist who understands your specific industry, strategy, goals and more. On the other hand, you get to work with someone on the outside with a different yet necessary set of skills to foster a strategic partnership. With more IT aficionados supporting your IT infrastructure, you're less likely to encounter issues.
Downsides of Co-Managed IT Services
The one downfall of co-managed IT services is that you'll have to maintain your internal team, which can affect budgeting. The onboarding process can also take time, meaning you and your team will have to dedicate time to that process on top of your other daily tasks. For the MSP to meet your standards, it may take a more in-depth, lengthier approach.
What Are Fully Managed IT Services?
With a fully managed IT service, instead of having your IT team collaborate with a managed service provider, your MSP is in charge of your entire IT system. If you don't have an internal department already established at your company, you'll likely want to choose fully managed services.
Outsourcing an IT service model is a strategy where the MSP takes on the role of your IT department, eliminating the need for you to deal with an internal IT staff. In some cases, the managed IT service provider will operate 24/7, making your business more responsive to issues as they arise. The MSP's trained professionals can even combat cybersecurity concerns like data breaches.
What does a managed services model look like? Examples of managed IT services include:
Cybersecurity
Network management
Managed IT
Compliance
Help desk services
Managed cloud support
Benefits of Fully Managed IT Services
This option is beneficial for the following reasons:
Relieves you of IT solution responsibilities
Executes a technology strategy that fits your business's unique requirements
Allows employees to focus on more trade-related tasks as opposed to managing IT
Decreases downtime and boosts organization productivity
Downsides of Co-Managed IT Services
The one con of outsourcing your entire IT team is that you eliminate internal expertise of your specific company and industry. In other words, your MSP may not fully understand your goals for your IT services as they relate to your business practices. This lack of knowledge can affect decision-making, including how you implement strategic projects.
Which Type of Managed IT Services Is Right for Your Business?
The deciding factors between MSP vs. internal IT come down to your budget, your company's size, specific industry needs and scalability, among a few others. Because no single person has all of the necessary skills to operate an IT management system, you must invest in full-fledged IT services to be successful — whether that's internal or external.
When implementing IT services, you have to consider everything from IT networks and system requirements to cloud computing, updates and hardware replacements. No matter your choice of co-managed IT support or fully managed IT services, you'll gain certain advantages, such as:
Reduced downtime
Reliance on professional technicians who are at the ready
Enhanced insight to updates, regulations and compliance
Remote access
Help desk services for immediate support
Managed vendors
Ultimately, both services make your IT systems more effective for efficient and securely run operations.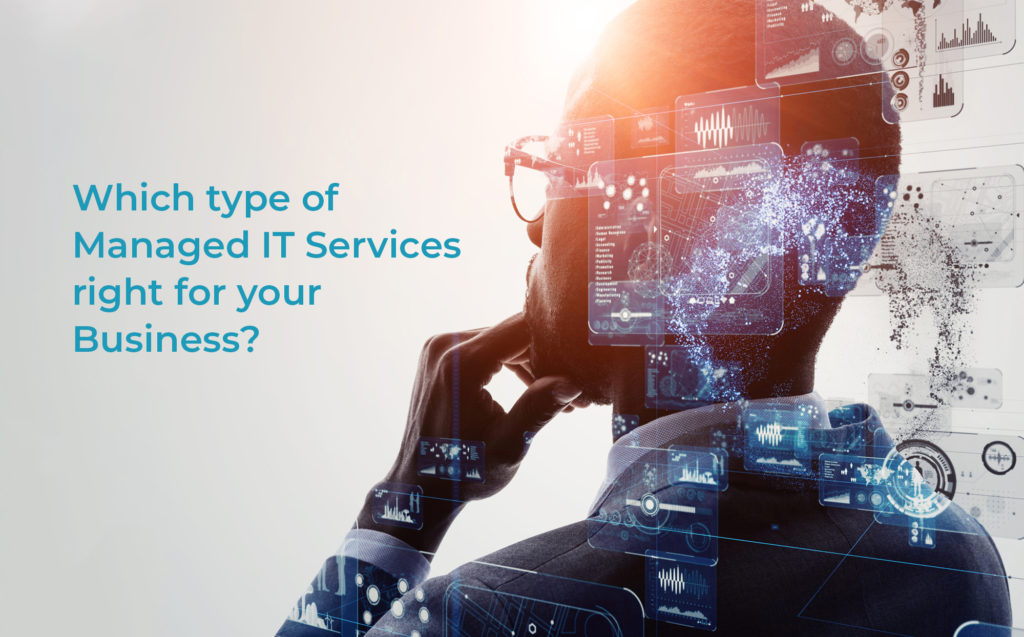 Learn More About Our Onsite and Remote Managed Service Options
Here at Cenetric, we're a full-service IT firm that 
offers numerous IT services
, including network management, help desk services and managed cloud support. The Cenetric team consists of nationally recognized IT engineers, and we're here to support your business whether you need full IT support or want us to partner with your in-house department.
IT keeps your operations up and running, so when you need to protect your company and enhance the information technology capabilities of your business, Cenetric can support you on every level, whether a co-managed or fully managed IT service method is right for you. Cenetric is a women-led and owned business that's 100% service-focused, meaning we're with you for the long haul.
To discover how we can support your business, contact us online today.