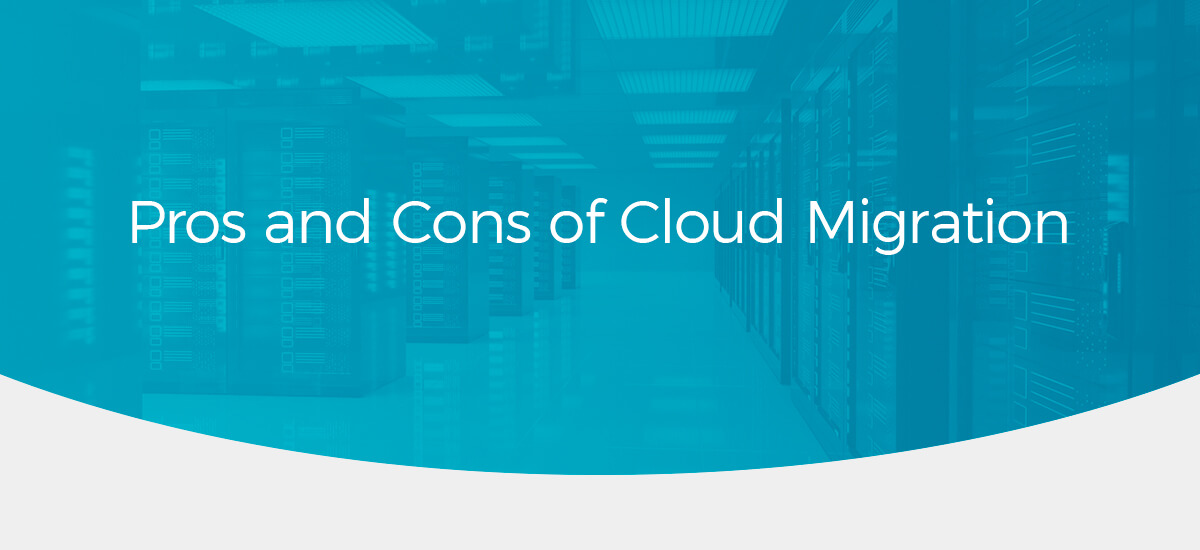 The process of cloud migration involves moving computing resources from on-premises to a cloud computing environment. This technology allows users to instantly access applications and data over the internet, which is becoming more and more important as people are working from home in increasing numbers. Additionally, cloud migration eliminates the need for expensive local servers and data centers, allowing businesses to allocate resources elsewhere. If you want to know whether it's right for your business, you should take a look at the pros and cons of migrating to the cloud.
The Benefits of Cloud Migration
What's the big deal about "the cloud"? Does your business really need it? Operating your business data through the cloud can increase scalability, cost savings, accessibility, reliability and security. Here's a closer look at several benefits of cloud computing:
Scalability
This technology makes it possible to add and remove resources when needed. As demand increases, your business's computer processing, memory and storage can expand to accommodate the traffic. As demand decreases, computing resources will shrink to just what you need. This capability means you'll only be paying for what you need when you need it. When compared to a local, on-premises environment, the advantage becomes clear. In order to accommodate large amounts of traffic, such as on Black Friday for retail businesses, you'd have to have large enough data centers to meet that demand — or risk customers being denied access. For the rest of the year, much of your data centers would be unused, making your investment almost worthless.
Cost Savings
A cloud migration strategy can offer cost savings by leaving operating costs in the hands of your cloud provider's professional staff. Therefore, you won't have large upfront costs and constant maintenance requirements, all while the equipment depreciates in value.
Accessibility
Due to the recent influx of employees needing to work from home, accessibility has become crucial. Fortunately, cloud computing makes it easy for your resources to be accessible in multiple offices and for employees working from home. There are no lengthy start-up processes or downloads. All your employees need are a computer and an internet connection.
Reliability
The best cloud technology providers utilize world-class technology that allows them to offer low latency and data backups, so you can ensure a quick recovery in case of a disaster.
Security
One of the main concerns about cloud migration is sensitive information security. Thankfully, providers always consider security and compliance and keep on top of regular updates that help protect your information. This is usually a large step up from the average security practices of businesses with local computing resources.
Challenges of Cloud Migration
While a successful migration will bring numerous advantages, you may have to overcome a few hurdles along the way. If you fall short, your cloud migration could end up wasting resources instead of saving them.
Complicated Process
Typically, cloud migration can be a complicated process. It requires planning and professional help to ensure your business's data is as streamlined and safe as before you transitioned to the cloud.
Vulnerability During Migration
While data is being transferred, you can still face small vulnerabilities. Having expert help will make sure all of your data is intact and secure in its new location.
Large Databases
If your business has a significant amount of data to transfer, it can be more difficult to migrate to the cloud. Sometimes, databases won't be able to function in the cloud unless they're moved to a new platform, and large databases could take too long to upload via the internet. In other cases, you may need to load the data onto hardware and ship it to the cloud provider.
Common Migration Strategies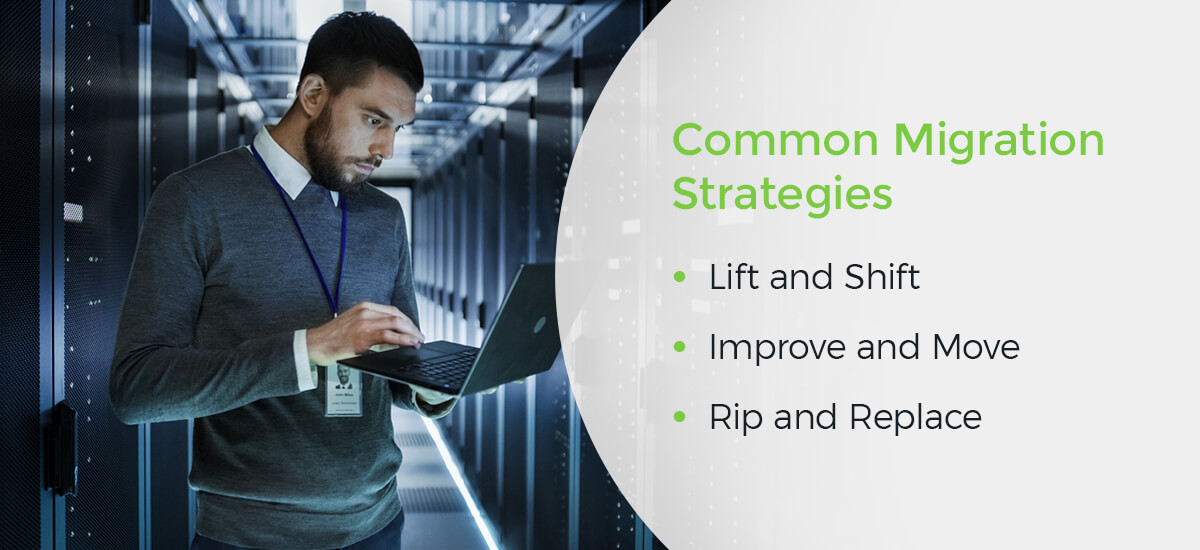 There are three different ways you can go about migrating your data.
1. Lift and Shift
Also called rehosting, the lift and shift method involves simply migrating your data to the cloud with no changes. It can be used for simple migrations and organizations without too many complex applications. Unfortunately, performing minimal changes could mean you'll have to pay more for speed in the long run, since the programs weren't optimized appropriately from the beginning.
2. Improve and Move
Known as re-platforming, "improve and move" involves making some updates to your data to ensure it fits into its new environment. This option provides more benefits than lifting and shifting but could still seem inferior when compared to the rip and replace method. However, it's generally easy to implement.
3. Rip and Replace
This strategy is also called refactoring, and involves rebuilding all of your data to be cloud-native. This approach takes more time and effort, but it'll provide your business with maximum benefits in the long run.
Repurchasing, Retiring and Retaining
While you're considering your options, you'll want to think about repurchasing, retiring and retaining your data. The first is when you have an application that can't move to the cloud, so you simply buy a new comparable product. When you're looking over everything, you may find an application you don't even need — retiring that application will save money and time. Lastly, retaining is a strategy you can use when you aren't ready to move specific data to the cloud.
The Cloud Migration Process
The migration process requires planning, monitoring and professional implementation.
1. Make a Plan
First, plan for what you need to move. Are you moving everything at once or leaving some data to look over later? Decide which strategy is best for your business. Take inventory of everything you need to move and what might need replatformed or refactored.
2. Set Key Performance Indicators
Next, you'll need to set goals and decide on some key performance indicators (KPIs) that will help you monitor your success. Consider the purpose of migrating in the first place, and make sure you're receiving the benefits you expected.
3. Migrate Slowly
Once you're ready to get started, you'll want to begin the migration with something small and simple. This will help you figure out the process and any complications you must iron out. After it's moved, test out everything and make sure it works.
Common Cloud Platforms
There are a few different cloud platforms to consider. The two we partner with at Cenetric are Microsoft Azure and Amazon Web Services (AWS). Both offer similar capabilities and functionality yet have a few noticeable differences.
Microsoft Azure
Azure is a relatively new cloud computing solution but is also a strong frontrunner. Many businesses already rely on other Microsoft applications, and Azure is able to integrate perfectly with them.
Amazon Web Services
AWS is one of the oldest solutions and has been the market leader for a decade. It offers comprehensive service with a more developed infrastructure than some of its competitors. There are many small differences between either platform, so the best one for you depends on your specific situation. Partner with 
Cenetric
 to learn more about which is right for you.
Learn More About Our Cloud Migration Services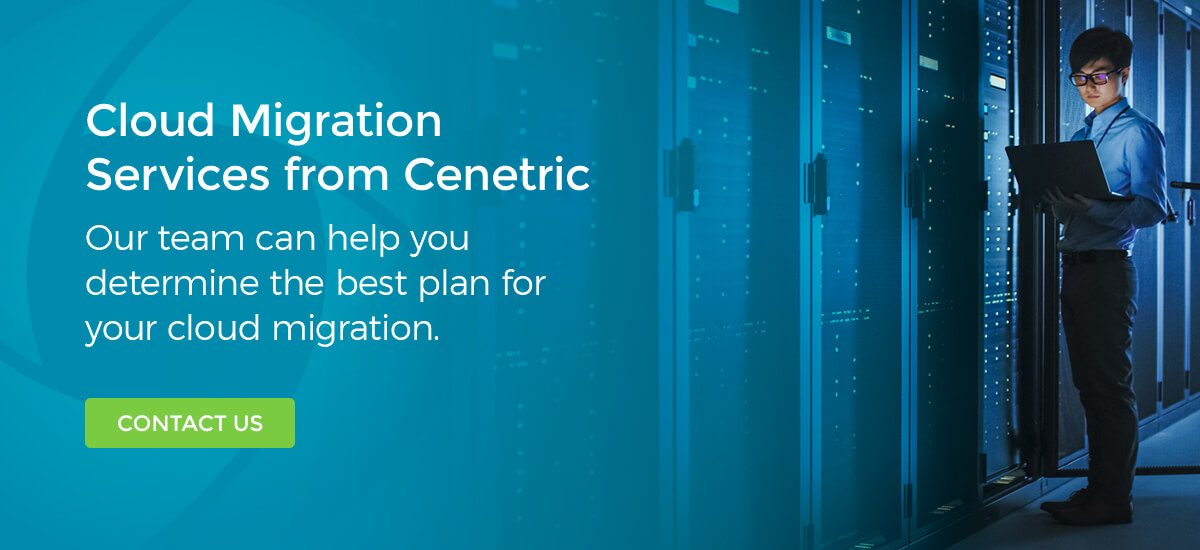 The team of experts at Cenetric can help you determine the best plan for your cloud migration and guide you through the implementation process. While web-based desktop environments are perfect for remote workers who need to access company data, cloud migration can seem complicated at first. Cenetric will be able to help with training to ensure your users have the tools they need. Learn more about 
our cloud services
 today so you can experience the benefits now!