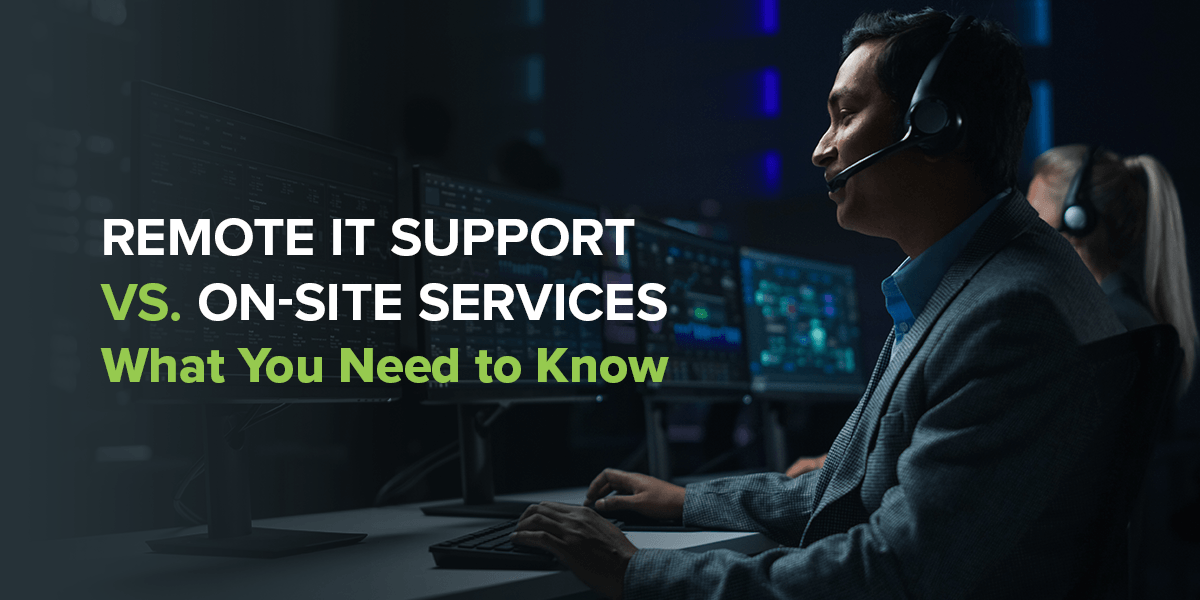 Remote IT Support vs. On-Site Services — What You Need to Know
If your business relies on technology for any part of your day-to-day operations, you know how critical it is to have trustworthy IT support when technical issues arise. There are numerous options for businesses to receive support, including remote IT services and on-site support. If you're in the middle of a "remote IT support vs. help desk" debate, we're here to help you understand what each option means for your business.
What Are Remote IT Support Services?
Remote IT support services, also often called help desks, involve off-site technical assistance provided by an outsourced IT support company. Your employees have access to the remote support team via various communication channels, including phone calls, chat messages, email, video calls and more. These services can benefit your company in several ways, though they may also have some potential downfalls. The pros of using remote IT support services include the following.
Affordability: Outsourcing your IT services to a remote help desk is a highly affordable option if your budget allows. You can save significant amounts of money with a remote team by eliminating the need to hire and maintain an in-house IT staff. In some cases, you'll likely only pay for the help you need, instead of a slew of services you may never use.
Availability: Remote IT services are typically available to you and your company 24/7. Regardless of your time zone, business hours or emergencies, you can reach support and get your problem resolved. Additionally, remote support can assist multiple people at once because they have several technicians working simultaneously to provide quick help and reduce wait times.
Support without geographical limitations: With remote IT support, there are no geographical limits. For example, if your company has a presence in several locations, you can use the same service for each of your branches. With remote services, you can even relocate your operations to anywhere in the world without losing access to your IT help desk.
Here are some possible downsides to remote IT support.
Lack of relations: While IT support technicians are friendly, there is little chance for them to connect with your employees and forge relationships. Additionally, with so many technicians working for a single IT company, there are slim chances of your employees reaching the same support agent each time they call.
Inability to address hardware issues: Because remote IT personnel aren't on-site, they can't assist with physical hardware problems. For example, if your computer won't turn on despite your best efforts, a remote team may have limited ability to help without assessing the issue in person.
Competition with other companies: While remote IT companies have numerous technicians working simultaneously, you're unlikely to be their only client, which means you may be competing with other companies for their time. The challenge with this is that there's no way of knowing how many people might be ahead of you in line.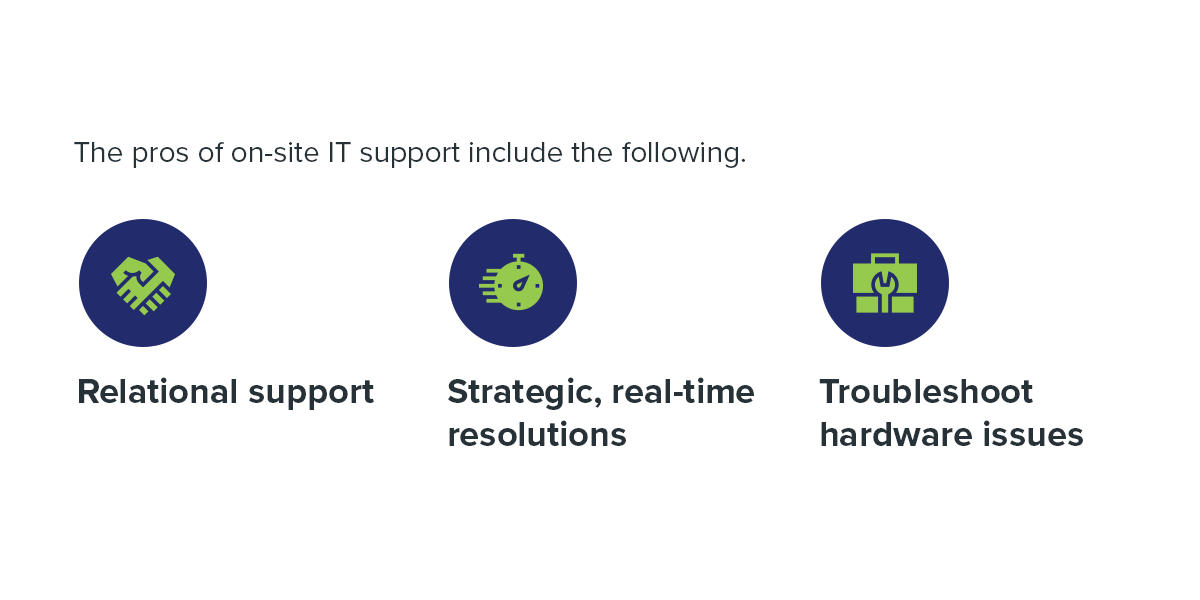 What Are On-Site IT Managed Services? On-site IT support services involve having an IT technician or consultant present at your business location. You could hire an in-house help desk employee, or an individual or 
team from an outsourced IT company
 that provides on-site support. Regardless of where your on-site support comes from, you'll find advantages and disadvantages to going this route. The pros of on-site IT support include the following.
Relational support: On-site support teams can develop relationships with those around them. Face-to-face interactions make it easier to communicate issues and build a trusting working relationship. Your employees will feel encouraged to call attention to minor issues as they occur instead of working around them and potentially allowing them to become more significant problems down the road.
Strategic, real-time resolutions: Because on-site IT support teams can become familiar with your employees' technological needs, they can provide strategic solutions to issues, plus strategically monitor, plan and upgrade systems during downtime. Instead of wasting valuable time on hold, your business can see real-time results.
Troubleshoot hardware issues: Unlike remote IT services, on-site technicians can troubleshoot hardware issues and be there to provide solutions to physical technology problems.
The cons of on-site IT support include the following.
Less cost-effective: On-site IT support can be significantly less cost-effective because you're paying for a technician to be there in person. Whether this includes a salary, hourly wage or travel fees, these expenses can add up, and you have to pay them regardless of whether you need assistance that day.
Less availability: Unlike remote IT help desks that are on call 24/7, on-site IT personnel are typically only available during your business hours or their scheduled timeframe.
Limited in terms of personnel: Budgetary constraints might limit you to having only one on-site technician. Realistically, there are limits to what one person can accomplish each day, especially if multiple people need help throughout the workday. Additionally, if your one on-site IT employee is sick or on vacation, you'll need to go without their expertise and knowledge.
Which One Is Better for Your Business?
Each business has specific needs that will vary depending on factors like size, available budget, the technology used, staff's skill levels and industry. The best option will ultimately come down to what your business does and whether on-site or remote IT support will benefit you and your employees more. Typically, larger companies have an in-house IT team or a combination of the two types of support for dealing with a multitude of software and physical hardware issues. Smaller businesses tend to rely more on remote help desks because they're more affordable and enable them to focus more thoroughly on mission-critical processes. Ultimately, the decision hinges on your preferences, budget and vision for success.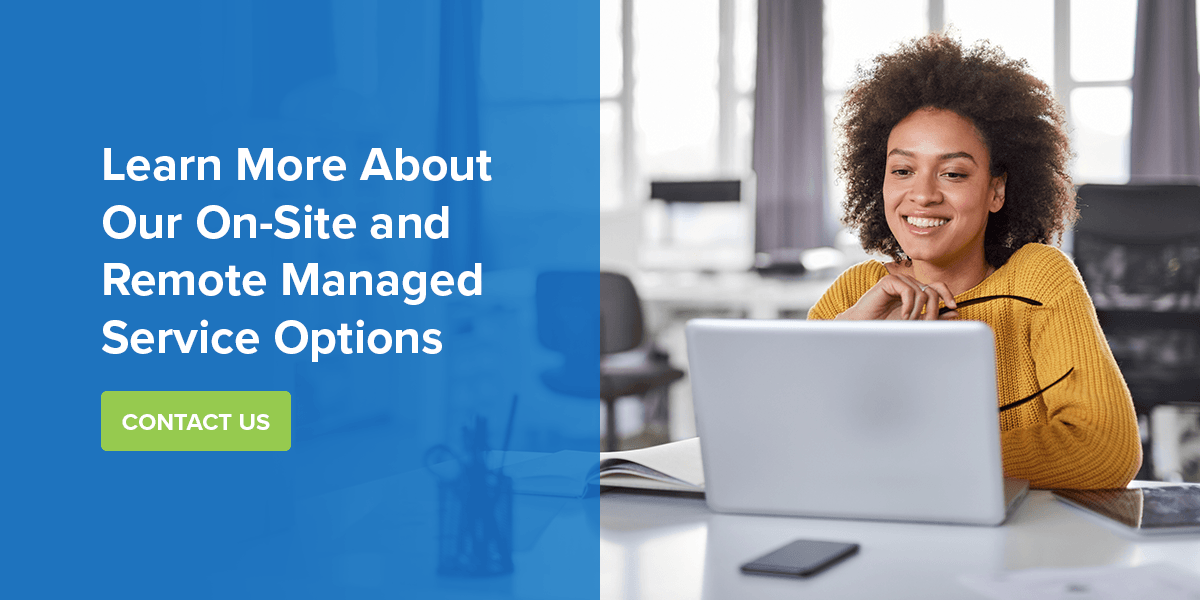 Learn More About Our On-Site and Remote Managed Service Options At Cenetric, we understand that every business needs unique IT support options. For this reason, we offer various service options, including on-site IT support and remote 
help desk services
. Our full-time engineers hold over 200 certifications in 70 different disciplines, ensuring they have the knowledge to resolve your technical issues and manage a wide range of services on your behalf. 
Contact us today
 to learn more about our IT support options and how we can help you!