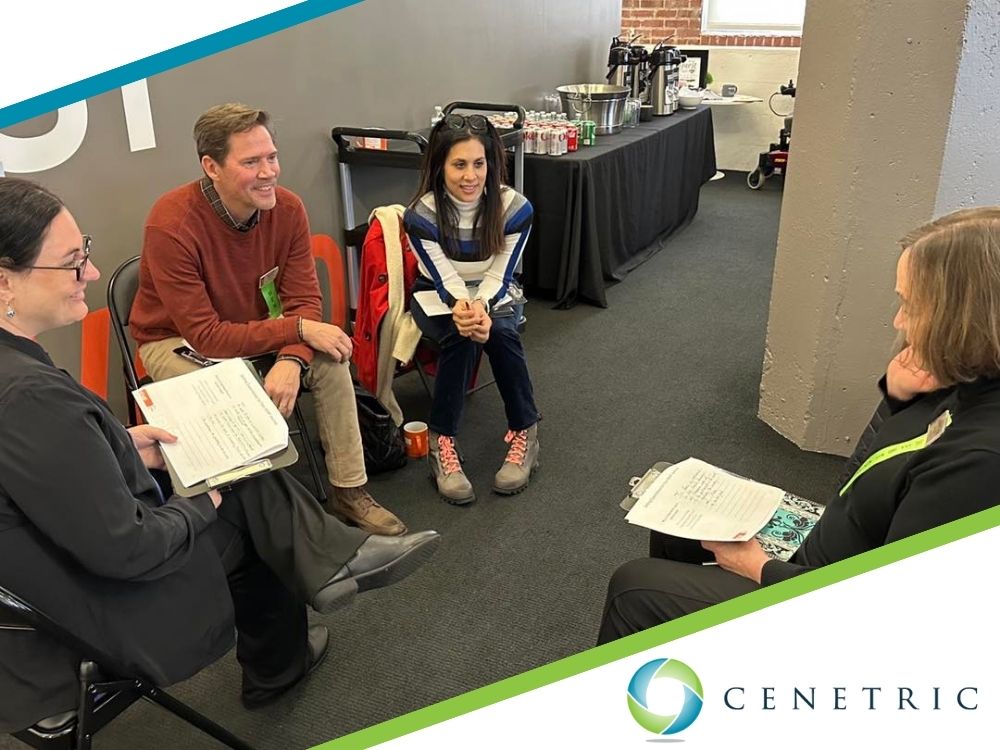 No one said being an entrepreneur was easy, but it gets a little better if you surround yourself with others going through the same challenges. 
Collaboration with business owners in the same boat as she is today — and others who have been there before — is what Cenetric founder Brittany Fugate found in the Helzberg Entrepreneurial Mentoring Program (HEMP).
HEMP brings KC entrepreneurs together
The program was founded in 1995 by Barnett Helzberg, Jr., former owner and president of Helzberg Diamonds, who had had a long-standing mentoring relationship with famed Kansas City entrepreneur and philanthropist Ewing Kauffman. Inspired by this relationship, he formed HEMP to match experienced entrepreneurs with up-and-coming founders.
HEMP has been connecting Kansas City mentors and mentees for nearly three decades and creating big returns for participants. Overall, mentees have experienced 43 percent revenue growth and a 41 percent increase in employee headcount. 
Finding the right mentor helps move the business forward
While she'd learned a great deal in other programs for entrepreneurs, Fugate found herself with a set of challenges that seemed to never get fully resolved. Aiming to move her business forward in a more strategic way, she applied and was accepted to HEMP and soon found herself interviewing more than a dozen potential mentors. 
Through a rigorous process, HEMP finds just the right match for each mentor and mentee — though Fugate knew who her mentor should be when she spotted Matthew Mellor at a Cancer Action fundraising breakfast the day after their interview. 
"I took that as a sign that he would be the best mentor for me," Fugate said. "There's a lot of overlap in our interests and industry, and I really valued the culture he had created at his own company." 
Mellor recognized a familiar mindset in Fugate as well, feeling that they both operated on the same wavelength. 
"I'm a big believer in building a people-first company, and that really came through in our early discussions," Mellor said. "It's sometimes hard to convince founders of the importance of a people-first environment, so the idea of working with someone who's already a believer was exciting to me." 
But that wasn't the only thing about Fugate that stood out to Mellor.
"Brittany has an authenticity that's infectious, and I really like the fact that she's building a great company in a male-dominated industry," he said. "She's also the only person I've ever mentored who called my current mentee to find out what I was really like to work with."
Mellor and Fugate meet every other week and speak often in between. He's a crucial part of Fugate's strategic decision-making process. Over the past year they've been working together, Mellor said he has seen tremendous growth from both Fugate and Cenetric. 
"Brittany absorbs my feedback, challenges me on it sometimes, and disregards it sometimes — all great qualities, to be honest," Mellor said. "Cenetric is at an inflection point — they're no longer building, they're scaling. That means that as a leader, Brittany faces new and unfamiliar challenges. She has done a great job of surrounding herself with a strong leadership team to navigate these new waters."
Mellor said he joined HEMP as a mentor because he's a problem-solver and finds joy in mentoring.
"I focus my mentoring on women-owned and minority-owned businesses because I see entrepreneurship as a powerful tool for leveling income inequality," he said. "Certainly one of the reasons that I've enjoyed working with Brittany is that I came from the IT world as well, and I know that it's an industry full of white men. I love the fact that Brittany is kicking a dent in the system."
Making more time for strategy and growth
Through her work with HEMP, Fugate has finally been able to knock out her list of nagging challenges and chart a new, more growth-oriented path for Cenetric's future. She was told by more than one advisor along the way to spend less time working in the business every day.
"When I solved those recurring problems and gave myself more time to step back and work on the business instead of in it, I actually found myself a little bored," Fugate said. "And that's when Matthew said, 'OK, now we can really start.'"  
Classes across a range of key topics for founders of growing businesses are a key part of the HEMP program, giving Fugate access to targeted training in areas like HR, finance and legal issues.
Fugate has also forged relationships with fellow entrepreneurs in her cohort, helping her learn from peers who face similar challenges in monthly meetings. She has access to other mentors in the program as well, turning to those who are experts in particular areas she'd like to grow in. 
"The biggest advantage to the HEMP program is that there are so many different people in different stages of life and in different stages of business, " Fugate said. "It's a full spectrum, and it really opened my eyes to how small I had been thinking before." 
Cenetric is always thinking bigger for its clients
Being a part of the HEMP program helps Fugate find new ways to tackle Cenetric clients' problems and expand its services. It's part of the company's ongoing mission to provide the best technical resources and solutions to growing businesses, while also having a positive impact on the community in the form of quality jobs and a charitable spirit.
Need a hand with your firm's technology? Working with companies in Kansas City and beyond, Cenetric has the experience and availability you need to keep running smoothly 24/7. Tell us about your organization and we'll be in touch to get started right away.